Prof. Motoshige Itoh

University of Tokyo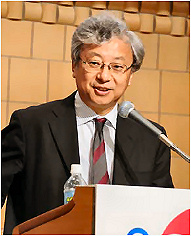 Prof. Motoshige Itoh,
University of Tokyo

Prof. Motoshige Itoh, University of Tokyo, addressed the meeting on the perspective of the Japanese government regarding economic issues in the Asia-Pacific region. Prof. Itoh noted that the previous day the Diet and Cabinet had debated the TPP and a new international terminal had opened at Tokyo International Airport, two issues that were related to the topic at hand.

China surpassed Japan in terms of total GDP in 2010. Twenty years ago China had a GDP one-eighth that of Japan. Ten years ago its GDP was one-third of Japan's GDP. It is now projected that in ten years China will have a GDP three times the size of Japan's and that in 20 years there will be three other regions, excluding the United States, with larger GDPs. This signals a very dramatic change in the economic geography of the Asia-Pacific region, and can only mean that the area will become much more important for Japan in the future.

Comparing the amount of Japan's GDP dependent on trade with similar statistics from other nations, we can see that Japan is currently much less reliant on outside sources of income than most other developed countries. 30% of Japan's GDP comes from trade, compared to 72% of Germany's GDP. This can be explained through what is known as the "gravity model of trade," which states that the total value of trade carried out by a country is dependent on its distance from its largest trading partners. Germany has always been near the economies of France, Italy, and the United Kingdom, among others, leading to a high dependence on trade. Japan on the other hand, has for a long time not been remotely near another economy of its size. The emergence of China is changing this, and thus Japan as well will most likely begin to trade more.

Given this situation, economic partnership agreements (EPAs) and FTAs will continue to be vitally important to Japan. Japan will also want to advance regional integration if it is to remain successful. APEC, ASEAN, and the TPP are likely to become even more influential in the Asia-Pacific.

Alongside the increasing importance of regional integration will most likely be the increasing importance of emerging economies. Looking at the activities of the IMF as an example, it was once the case that most of the money from the IMF was used to maintain economic stability in developed nations. Since the 1980s, the majority of IMF funding has gone from developed nations to developing nations. It is likely that in the future as well the world is going to see increases in the amount of FDI going from rich to emerging nations and, alongside this, the emergence of the latter as stronger economic powers.




The completion of an international terminal at Tokyo International Airport is of extreme significance. The opening of air routes between local metropolitan airports was once a mere dream. The Japanese government has been discussing for a long time the creation of an open sky policy in the Asia-Pacific, but this has not happened yet. The EU and North American Free Trade Agreement (NAFTA) have open skies, and ASEAN is now working hard for this as well, but there is as of yet no prospect of an open sky initiative throughout Asia. Removing barriers to air travel would likely be extremely beneficial to the region and lead to more integrated economic activity. Tokyo International Airport is just the first step. There are nearly 100 airports in Asia; it is time they be connected.

A meeting participant asked what the prospects for China and Japan increasing their trade levels were, given the diplomatic troubles that had occurred between the two. Prof. Itoh answered that the ban China had imposed on the export of rare earth materials to Japan did not bode well for trade between the two nations. He also commented that agricultural issues were a frequent point of argument which would probably not be resolved soon. Even if these issues were not resolved, Prof. Itoh continued, Japan would want to proceed with increased exports to the United States and other Asian nations. He stressed that, although China was important, other economies were equally important partners for Japan.