Symposium on
"The 'State (Political Entity)' and Governance in Africa"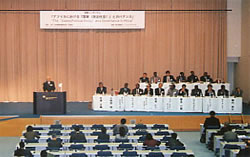 The Japan Institute of International Affairs (JIIA), together with the Ministry of Foreign Affairs, held an international symposium on "The 'State (Political Entity)' and Governance in Africa".
As globalization sweeps across the international community today, states in Africa need to increase and improve their governance capabilities to prevent/resolve conflicts and to achieve sustainable development. Proceeding from this starting point, our aim in this symposium is to carry out discussions on what approaches to governance are required in Africa, what kinds of states can be constructed there, how appropriate democracy is for the continent, and what solutions are possible to achieve these objectives, and then to develop recommendations on concrete measures to be taken. We have invited experts from the United Nations, the Organization of African Unity, the UN Economic Committee on Africa, the World Bank, the African Bank of Development, and European and American universities. In addition, we have invited knowledgeable persons from Japan with an interest in these issues to join in the discussions.
Hisashi Owada
President, JIIA
| | | |
| --- | --- | --- |
| Date/Time | : | Thursday, 28 March, 2002, 9:00 a.m. - 5:00 p.m. |
| Venue | : | "U-Thant" International Conference Hall, 3rd Floor, UN University |
| Program | : | see attachment |
| List of Participants | : | see attachment |
| Language | : | Japanese, English, French (simultaneous interpretation available) |
The paper of the speech could be read in PDF file.
Please allow us to take a few minutes for downloading.
(You need Acrobat Reader of Acrobat to open the PDF file.)
Program and Speeches(PDF files)