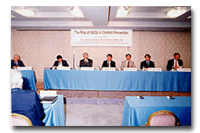 The Role of NGOs in Conflict Prevention
June 9-10, 2000
Takanawa Prince Hotel




On June 9 and 10, the Japan Institute of International Affairs (JIIA), in cooperation with the Japan Center for Preventive Diplomacy (JCPD), supported by the Ministry of Foreign Affairs (MOFA), held an international symposium on the "Role of NGOs in Conflict Prevention". The total participants both from Japan and abroad numbered more than a hundred, including representatives of international organizations (List of Participants), and lively discussions were conducted in a frank and friendly atmosphere.
The outcomes of the symposium were reported to Foreign Minister Yohei Kono prior to his attending the G8 Foreign Ministers in Fukuoka where the topic of Conflict Prevention was discussed.
Jointly with JCPD, JIIA also published "Directory of Organizations for Conflict Prevention in Asia and the Pacific", in which 290 organizations are listed, in December 2000. The contents are available on the web
(http://www.conflict-prevention.org ).





© Copyright 2000 by the Japan Institute of International Affairs