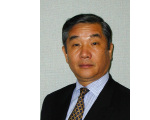 Hideaki Kaneda

Adjunct Fellow at the Japan Institute of International Affairs.


---
Vice Admiral Hideaki Kaneda, JMSDF (ret.)
Vice Admiral Hideaki Kaneda, JMSDF (ret.) is a Director for The Okazaki Institute, and a trustee of RIPS (Research Institute of Peace and Security). He was a Senior Fellow of Asia Center and J. F. Kennedy School of Government of the Harvard and a Guest Professor of Faculty of Policy Management of Keio University.

He is the author of published books and articles about security, including "Proposal for Maritime Coalition in East Asia", IMDEX, Germany, Nov. 2000, "Changing situation of China's and Japan's security", World and Japan, Tokyo, Sep. 2001, "US/China Power Game in Maritime Hegemony", JIIA, Tokyo, Mar. 2003, "BMD for Japan", Kaya-Books, Tokyo, Mar. 2003, "Multilateral Multi-Agencies Cooperation for Maritime Order Maintenance", CSCAP, Apr. 2005, "US and Japan's Policy toward North Korea", World and Japan, Tokyo, Sep. 2005, "Japan's Missile Defense", JIIA, Tokyo, Dec. 2006, "Collective Defense Right and Japan's Security, Naigai News, Tokyo, Aug. 2007, "Aspects of the War (Sea Battle)", Naigai Publishing Company, Tokyo, July. 2008, "Understanding BMD", Ikaros-Books, Tokyo, Oct. 2008.

He is a graduate of the National Defense Academy in 1968, the Maritime War College in 1983, and the U.S. Naval War College in 1988. He served in the JMSDF from 1968 to 1999, primarily in Naval Surface Warfare at sea, while in Naval & Joint Plans and Policy Making on shore.