Information
Web server shutdown : Due to the electrical equipment inspection, we will shutdown the web server in the following date and time: 2017/3/3(Fri) 18:00 - 3/6(Mon) 10:00 (JST)
JIIA again ranked 1st in Asia and 15th globally in "2016 Global Go To Think Tank Ranking"'ėÖ
->Total list of global ranking
The Japan Digital Library was created to disseminate outstanding research translated from Japanese, and JIIA began posting the 'ÄúRule of Law Series'ÄĚ as the first contribution to this Library. &nbsp [Japan Digital Library / Rule of Law Series page]
JIIA Forum / Symposium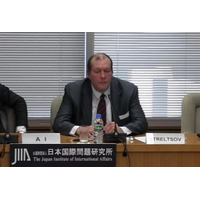 Theme: "Trends and Prospects of Japan-Russia Relation"
Speaker: Prof. Dmitry Streltsov
Head of the Afro-Asian Department and a Professor of Moscow State Institute of International Relations (MGIMO-University)
(2017-02-17)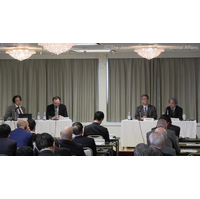 JIIA Open Symposium "A Reality Check on Security Policies: The New Security Legislation/Guidelines and Circumstances on the Korean Peninsula and in the Middle East'ÄĚ
Session 1 - 'ÄúComprehensive Analysis of Circumstances on the Korean Peninsula and Japan'Äôs Security'ÄĚResearch Group
(2017-02-16)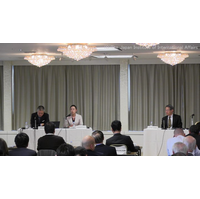 JIIA Open Symposium "A Reality Check on Security Policies: The New Security Legislation/Guidelines and Circumstances on the Korean Peninsula and in the Middle East'ÄĚ
Session 2 - 'ÄúCurrent Situation in the Middle East and the New Regional Order'ÄĚ Research Group
(2017-02-16)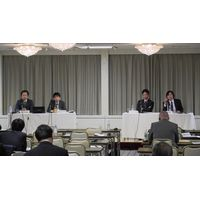 JIIA Open Symposium "A Reality Check on Security Policies: The New Security Legislation/Guidelines and Circumstances on the Korean Peninsula and in the Middle East'ÄĚ
Session 3 - 'ÄúSecurity Policy'ÄĚ Research Group
(2017-02-16)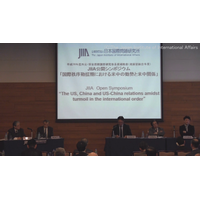 JIIA Open Symposium "US-China Relations and International Relations Surrounding the US and China"
Session 1 - 'ÄúUS-China Relations and International Relations Surrounding the US and China'ÄĚ
(2017-02-08)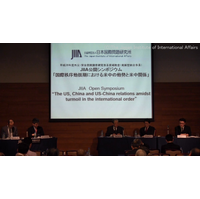 JIIA Open Symposium "US-China Relations and International Relations Surrounding the US and China"
Session 2 - 'ÄúChina's Domestic Situation and Foreign Policy'ÄĚ
(2017-02-08)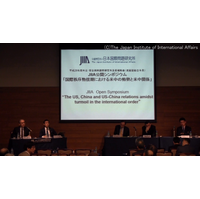 JIIA Open Symposium "US-China Relations and International Relations Surrounding the US and China"
Session 3 - 'ÄúDomestic Factors Influencing US Foreign Policy'ÄĚ
(2017-02-08)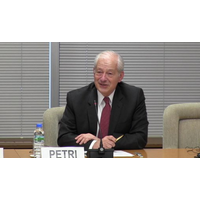 JIIA Forum "The New US Administration and the Direction of the Asia-Pacific Economic Integration"
Speaker: Peter A. Petri, Carl J. Shapiro Professor of International Finance, Brandeis University
(2017-01-19)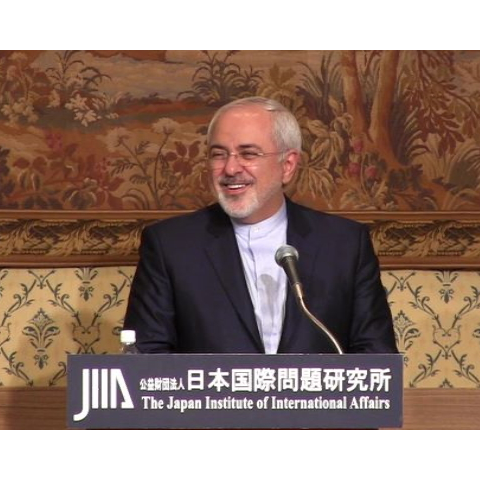 JIIA Forum "Iran's Foreign Policy and Changing Global Environments"
Speaker: H. E. Minister, Dr. Mohammad Javad Zarif, Foreign Minister of the Islamic Republic of Iran
(2016-12-08)

More Forum / Symposium
Media Exposure
Dec 16

Commentary in NHK World Radio Japan by Miho Okada, Research Fellow (Japan-Russia Summit Meeting)
Dec 8





Shingo Yamagami, (Acting) Director General, attended the Stratbase ADRi Pilipinas Conference (Manila, Philipines) as a panel member. Local newspapers reported on the conference proceedings:
[Manila Standard] [Philstar GLOBAL][Transcript of Amb.Yamagami's remarks]
Nov 10



Special contribution to Japan Association for Human Security Studies by Hideaki Asahi, Former Ambassador to East Timor/Adjunct Fellow ("State, Society, and Social Capital", Journal of Human Security Studies Vol.5, No.2)
Nov 9


Interview by Stuttgarter Zeitung (Germany) with Shingo Yamagami, (Acting) Director General (New President Trump and Japan)
Nov 9

Commentary in NHK World TV by Asuka Matsumoto, Research Fellow (U.S. Presidential Election)
Nov 9

Commentary in NHK World Radio Japan by Asuka Matsumoto, Research Fellow (U.S. Presidential Election)
Nov 9

Interview by AP with Asuka Matsumoto, Research Fellow (Next president Trump)
Nov 7


Interview by Rádio Senado (Brazil) with Shingo Yamagami, (Acting) Director General during his visit to Brazil (Japan's Security Policy)
Sept 27


Interview by NHK World Radio Japan with Asuka Matsumoto, Research Fellow (The first presidential debate in the US)
Sept 25


Interview by Manila Bulletin (Philippines) with Shingo Yamagami, (Acting) Director General ("Int'l community watching China's next move after sea ruling")
Sept 9

Interview by ABC (Austraria) with President Yoshiji Nogami (Japanese foreign policy)
Aug 24

Comments in PenzaNews (Russia) by Hironori Fushita, Research Fellow (Eastern Economic Forum)
More Media Exposure
International Conference
March 2015
3rd Japan-India Dialogue, Tokyo
Japan-US Security Seminar Follow-up Meeting, Washington, DC
February 2015
8th JIIA-IPIS (Institute for Political and International Studies, Iran) Roundtable, Tehran
2nd JIIA-CSR (Center for Strategic Research, Expediency Discernment Council, Iran) Dialogue, Tehran
JIIA-IIRI (Ilmin International Relations Institute (IIRI), Korea University) Dialogue, Seoul
JIIA-RAND Corporation Dialogue, Tokyo
January 2015
4th JIIA-INSS (Institute for National Security Strategy, South Korea) Dialogue, Tokyo
December 2014
3rd JIIA-IIS (Institute of International Studies, Fudan University, China) Dialogue, Tokyo
More Conference
AJISS-Commentary

AJISS-Commentary is an occasional op-ed type publication. It aims to present a variety of Japanese views on international relations to international intellectuals interested in Japanese external policy.
No.241
Regulatory reform should be reaffirmed as the top priority in Abenomics' third arrow
Hiroko Ohta (13 December 2016)
No.240
Negotiations with Russia as a Part of Japan's Long-term Strategy
Tsuyoshi Sunohara (25 November 2016)
No.239
Brexit from an EU Perspective
Ken Endo (21 November 2016)
No.238
Tokyo 2020 to be Crucial Test for Future Olympic Games
Yuriko Koike, Governor of Tokyo (31 October 2016)
More Commentary
Topics
Membership
Japan Digital Library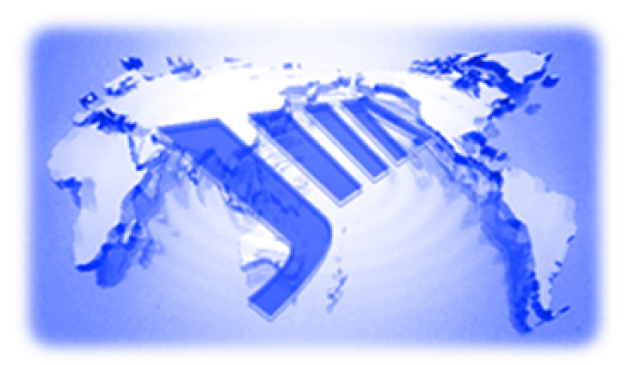 JIIA Annual Brochure 2017
A highlight of JIIA's recent activities and a summary of its organization.
Publication
Journal


Kokusai Mondai (International Affairs)
No.658 January-February 2017 "Emerging Technologies and Security"
Books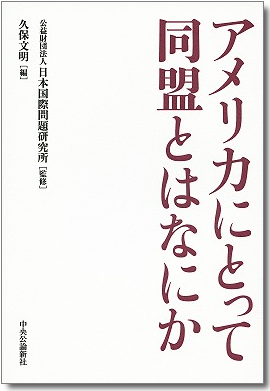 What Do Alliances Mean to the US?
(Fumiaki Kubo ed., 2013)
More Publication