Information
The Japan Digital Library was created to disseminate outstanding research translated from Japanese, and JIIA began posting the 'ÄúRule of Law Series'ÄĚ as the first contribution to this Library. &nbsp [Japan Digital Library / Rule of Law Series page]
JIIA No.13 in 2014 global think tank rankings
JIIA has been ranked 13th out of about 6,600 think tanks around the world in annnal survey conducted by the TTCSP-Think Tank and Civil Society Program of the University of Pennsylvania. In Asia JIIA is the highest, which was the same position in the previous year. Total list of global ranking
JIIA Forum / Symposium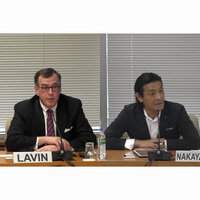 JIIA Special Forum on the 2016 US Presidential Election (1st of a series)
"The 2016 U.S. Presidential Race: An Inside View"
(2016-05-24)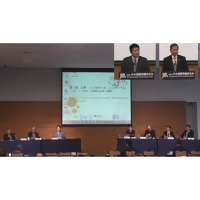 The 11th Japan-Singapore Symposium "The Future and Prospects of Japan and Singapore Relations"*Open access
(2016-04-26)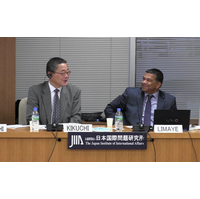 JIIA Study Report Symposium "US-Japan Relations and Southeast Asia: Meeting Regional Demands"
(2016-03-14)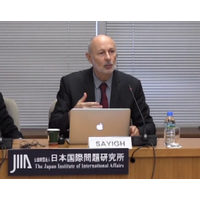 Theme: "Prospects for Resolution of the Syrian Conflict Situation and Implications for Middle East Peace and Stability"
Speaker: Dr. Yezid Sayigh, Senior Associate, Carnegie Middle East Center in Beirut (26 February 2016)
(2016-02-26)

Theme: "Stronger Partnerships for a Better World"
Speaker: Mr. Anthony John "Tony" Abbott, the 28th Prime Minister of Australia
(2016-02-26)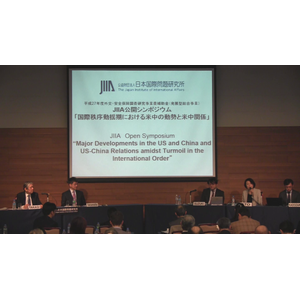 JIIA Study Report Symposium "Major developments in the US and China and US-China relations amidst turmoil in the international order"(24 Mar 2016) (session1)
(2016-02-24)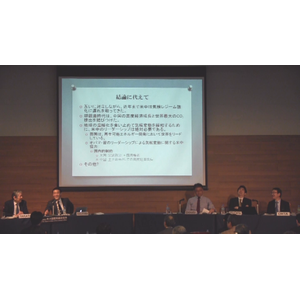 JIIA Study Report Symposium "Major developments in the US and China and US-China relations amidst turmoil in the international order"(24 Mar 2016) (session2)
(2016-02-24)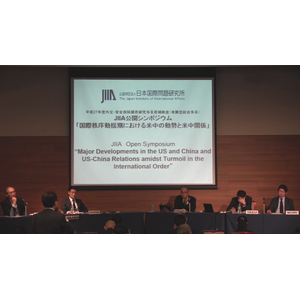 JIIA Study Report Symposium "Major developments in the US and China and US-China relations amidst turmoil in the international order"(24 Mar 2016) (session3)
(2016-02-24)

More Forum / Symposium
International Conference
March 2015
3rd Japan-India Dialogue, Tokyo
Japan-US Security Seminar Follow-up Meeting, Washington, DC
February 2015
8th JIIA-IPIS (Institute for Political and International Studies, Iran) Roundtable, Tehran
2nd JIIA-CSR (Center for Strategic Research, Expediency Discernment Council, Iran) Dialogue, Tehran
JIIA-IIRI (Ilmin International Relations Institute (IIRI), Korea University) Dialogue, Seoul
JIIA-RAND Corporation Dialogue, Tokyo
January 2015
4th JIIA-INSS (Institute for National Security Strategy, South Korea) Dialogue, Tokyo
December 2014
3rd JIIA-IIS (Institute of International Studies, Fudan University, China) Dialogue, Tokyo
More Conference
AJISS-Commentary

AJISS-Commentary is an occasional op-ed type publication. It aims to present a variety of Japanese views on international relations to international intellectuals interested in Japanese external policy.
No.229
The Fiscal Costs of Unconventional Monetary Policy
Mitsuhiro Fukao (19 May 2016)
No.228
The Brexit Issue from an Economic Perspective
Soko Tanaka (13 May 2016)
No.227
Japan-Australia relations (with a particular focus on the security implications of the submarine deal)
Takashi Saitoh (6 April 2016)
No.226
The Abe Administration's "Pragmatic Policy Line"
Katsuyuki Yakushiji (4 April 2016)
More Commentary
Topics
Membership
Japan Digital Library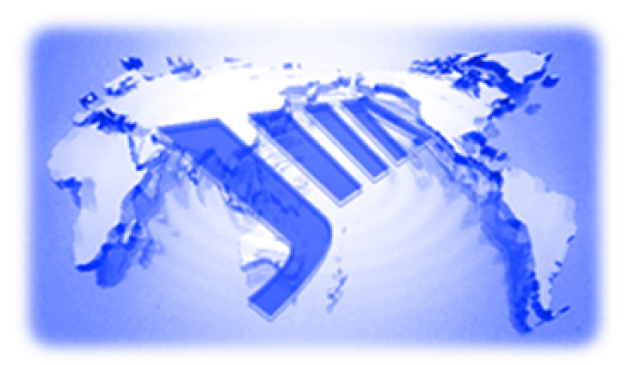 JIIA Annual Brochure 2016
A highlight of JIIA's recent activities and a summary of its organization.
Publication
Journal


Kokusai Mondai (International Affairs)
No.651 May 2016 "G7 Ise-Shima Summit: Changes and Challenges"
Books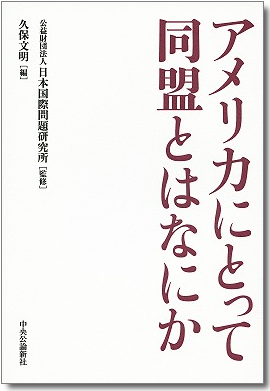 What Do Alliances Mean to the US?
(Fumiaki Kubo ed., 2013)
More Publication