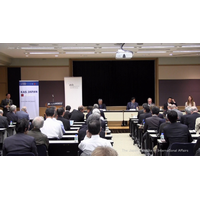 Opening Remarks:
Amb. Yoshiji NOGAMI, President, JIIA
Dr. Hans Carl von Werthern, Ambassador of the Federal Republic of Germany in Japan
Panelists:
Akira Muto (Cabinet Councillor, National Security Secretariat, Cabinet Secretariat)
Matthias Nass(Chief International Correspondent, Die Zeit; Co-Chair of the Japanese-German Forum)
Hiroyuki Akita (Commentator, Editorial Bureau, NIKKEI Inc.)
Petra Sigmund (Regional Director forEast Asia, Southeast Asia and Pacific, Federal Foreign Office, Germany)
Moderator:
Amb. Yoshiji Nogami
Closing Remarks:
Thomas Awwe, Director, Konrad Adenauer Foundation Tokyo
Hiroshi Kawamura, Deputy Director-General, European Affairs Bureau, Ministry of Foreign Affairs, Japan
*The language is German.

©Copyright 2018 JIIA All Rights Reserved.