Video Library
Theme: "Media and Diplomacy"
(2019-09-18)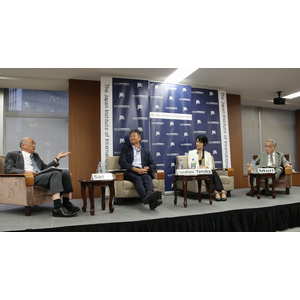 Panelists:
Mr. Tsuyoshi Sunohara, Senior Managing Executive Officer for Global Business, Nikkei Inc. / Chief Operating Officer (COO), Mt. Fuji Dialogue
Ms. Junko Tanaka, Head of Global Strategy Division, NHK WORLD , NHK-Japan Broadcasting Corporation / Former Washington Bureau Chief
Mr. Chiharu Mori, Editorial Board, Yomiuri Shimbun
Moderator:
Amb. Kenichiro Sasae, President , JIIA / Former Japanese Ambassador to the U.S.